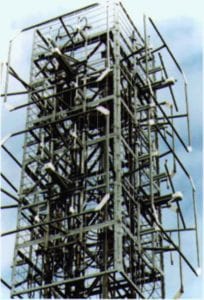 The need for DAB-FM Shared Aperture Antennas grew with DAB coming to the market. FM Radio Broadcasting Services in Europe transmit from a small number of high power stations. This provides the most cost-effective way of providing a nationwide service. Five stations transmit from each antenna in the UK. Each station is either 10 or 20kW per channel. The broadcast services include FM and DAB transmissions plus new services.
Vertical Real Estate
Furthermore, the surge in mobile radio and broadcasting shows the vertical real estate's true economic value. It has highlighted the difficulty in finding available space on existing structures. Environmental considerations mean that local Zoning or Planning Authorities are reluctant to permit the building of ever more tower structures.
DAB-FM Shared Aperture Antennas
Some years ago, the BBC approached AlanDick Broadcast with a request to design an antenna. It had to fit the space occupied by the existing FM antennas. We embarked on a development project to achieve this without any serious effect on the FM antenna. The antenna also had to be easy to install, with minimum downtime for the FM services.  However, it needed to have a minimum impact on the FM antenna radiation pattern. Furthermore, the minimum effect on the return loss of the FM was essential. All this while meeting the specification for a DAB-FM antenna! The FM antennas supplied by AlanDick Broadcast to the BBC include two types depending on the mounting structure.
Square Arrays (FM Crossbow)
The FM Crossbow antenna fits on square structures. This also provides an omnidirectional Horizontal Radiation Pattern from an array of 4 panels mounted around a square structure.
Finally, for more detailed information, please call us now. Alternatively, outside of normal business hours or during public holidays, please leave a message via our Contact us page. We will get back to you as soon as possible. In the meantime, please download the datasheet on the product.
Data Sheet Download:
DAB & FM Shared Aperture