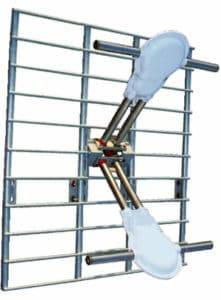 The ADB-HD-HV2 Dual Dipole Flat Panel Antenna (horizontally polarised/Band III) flat panel antenna system. Rugged galvanised steel construction also ensures many years of dependable performance even in the harshest of environments. Protective radomes will also protect against heavy ice buildup.
The ADB-HD antenna also has an excellent and indeed proven bandwidth. This includes a typical VSWR of <1.05:1 on the carrier and <1.1:1 across the channel.
Also, many standards and custom directional patterns are available to fit any of your coverage requirements. Please call us now to discuss!
Dual Dipole Flat Panel Antenna Design Features:
Designed for high band VHF (Ch 7-13) Band III (174-230 MHz).
Single Panel Gain 8.0 dB.
Typical VSWR 1.05:1 or better.
Also omnidirectional or custom directional patterns.
Rugged Hot Dipped Galvanised Steel.
Dipole Constructed of Stainless steel.
Pressurised Feed System.
Radomes Available.
Custom Mounting Brackets Available.
Easy Installation.
Finally, for more detailed information, please call us now. Alternatively, outside of normal business hours or during public holidays, please leave a message via our Contact us page. We will get back to you as soon as possible. In the meantime, please download the datasheet on the product.
Datasheet Download:
ADB-HD-HV2_1.pdf