The H72 UHF TV Broadband Panel, 470-860 MHz antenna, provides a horizontal polarised pattern. Moreover, the design allows for multi-channel digital and analogue TV broadcasts. Furthermore, the specification offers a high power-rating, voltage rating and total UHF TV bandwidth. This antenna is ideal for a multitude of custom and conventional antenna arrays. Input flanges with various international standards are available. Current monitoring probes are an option.
The rugged horizontally polarised construction will deliver at least a 25-year operational lifetime. Hundreds of units are in service globally. Fibreglass radomes, constructed from custom specified coloured resin, will provide all-around environmental protection. Also, the panel, with a 72-degree horizontal beam, provides excellent omnidirectional performance in a five-around configuration. Vertically spaced high gain arrays on 1 to 1.1m centres provide 32x wavelength apertures.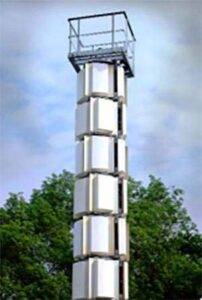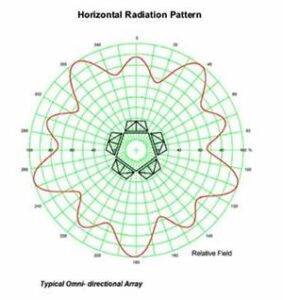 General Array Information
Furthermore, the H-72 UHF TV Broadband Panel 470-860 MHz is ideal for high-power multi-channel systems. This panel provides a five-around top mount or side mount system. Also, a large cross-section multi-panel wrap-around array is available.
Five panels per tier or bay provide 70% of an additional internal area without any pattern degradation compared with a square array. The design includes space for high-power harness components while maintaining sound internal climbing access. Furthermore, the structure comprises internal ladders. Optional external ladders are available.
UHF TV 470-860MHz Broadband Panel Antenna Delivers both Performance and Reliability. Pentagonal steel spines or large cross-section structural steel tubes are available to support up to 20 tiers of panels. Cantilevering on the tower top is optional. Alternatively, mounting to the mast with guy wire supports is an option.
High-Performance UHF TV Broadband Panel 470-860 MHz 
AlanDick Broadcast designs and supplies suitable interfaces to fit existing structures. Fibreglass infill sectors between the panels are also an option. These improve the aerodynamic loading and provide a considerable reduction in tower loading.
Finally, for more detailed information, please call us now. Alternatively, please visit the Contact us page and leave a message outside regular business or public holidays. We will get back to you as soon as possible. In the meantime, please download the product datasheet below.